Smile Makeovers: Restoring Alexis's Smile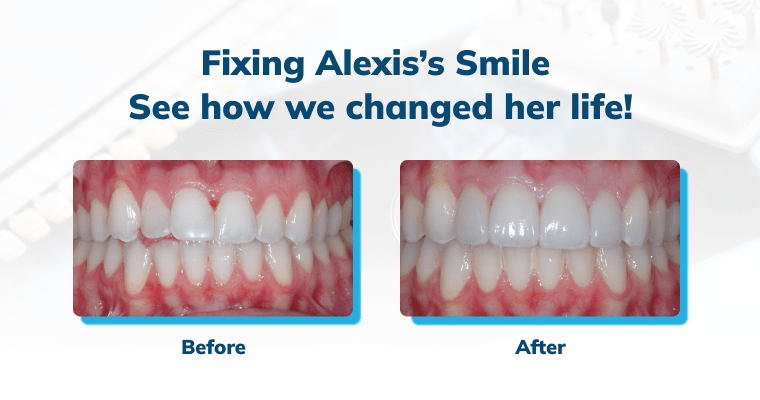 Has your smile suffered the consequences of a long-standing injury?
Are you looking for ways to repair and perfect your smile?
Then you need to meet Alexis!
Alexis suffered a facial injury, causing her teeth to shift and her smile to be less symmetrical.
On top of that:
Alexis thought her teeth were "too short" and needed to be whiter.
So, how did we get Alexis in our office and restore her smile?
Alexis asked her friends who they recommended as the best cosmetic dentists, and they, in turn, suggested Benjamin Turnwald Dentistry. Alexis took the first step and booked a consultation with us.
That's when the magic started.
Restoring Alexis's smile with Smile Design
Alexis wanted a brilliant, straight, and natural-looking smile after suffering for so long.
During her smile consultation:
We discussed her goals to fix the shifting of her teeth, change their length, and make them whiter. Based on that, we went over what cosmetic dentistry services would suit her needs.
Our solution:
Alexis would need Invisalign treatment followed by porcelain veneers on her upper four front teeth.
However:
Despite the strong desire to overhaul her smile, Alexis worried about the cost of getting the smile of her dreams.
But we had her covered:
Our team is familiar with the stress and mess money causes, so we've perfected our ability to work within budgets, phasing treatments to maximize dental benefits and provide multiple financing options to our patients.
Alexis was no different, and we were able to create a financial solution customized to her needs.
" After my very first appointment, I was convinced. I was looking to completely change my smile as I was unhappy with the cosmetic look of my teeth. After deciding that I was a good candidate for this type of work, Dr. Turnwald walked me through all my procedural and financial options. Through these conversations, I truly felt he wanted what was best for me and did everything he could to work with my situation. He was always patient with me as I had a million questions."
When it comes to your smile, it's always about what's right for you. You are the driver, and we're here to help you achieve your ultimate dream smile.
After planning and strategizing, we worked diligently with Alexis to bring her dream smile to life.
Here's what she had to say about the process:
 " After trying Invisalign, we both decided that veneers would be my best option to get the results I wanted. I felt like, for a while, I was in the office every week! But with every appointment, he paid full attention to me and every request and question I had. Not only is Dr. Turnwald incredible, but his team is absolutely outstanding. I have never met a more personable and kind group of people. Every single person went out of their way to make me feel comfortable. It truly feels like you are among family."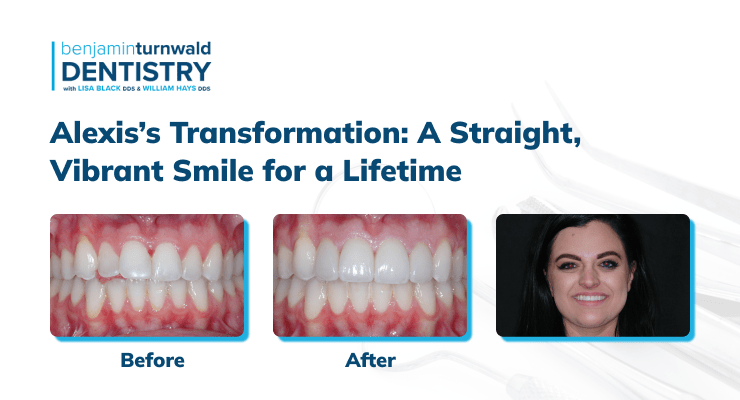 Ready to restore your smile near Schaumburg?
Now that you've seen Alexis's smile take on its best possible form, it's time you took steps to fix yours too.
Here are a few quick tips to make the most of your time when looking for a cosmetic dentist:
1. Do a little research (like you're doing right now) about your options
2. Look for dentists with before-and-after portfolios to see their previous work
3. Take a look around their website and get a feel for their office
4. Look at their new patient pages so you can see how they do things
5. Schedule consultations with the dentists you'd like to meet in person
6. Choose the option that makes the most sense for you
Our expectation at Benjamin Turnwald Dentistry is for you to be able to say this about your dentist:
 " I cannot put into words what Dr. Turnwald did for me. I never used to like to smile as I didn't like the appearance of my teeth. But now I can't stop smiling. I feel so much more confident in the way I look. I will forever be grateful to Dr. Turnwald and his wonderful team. I will never go anywhere else."
If you need a smile makeover near the Schaumburg area, we want you to take advantage of our complimentary smile consultations.
At Benjamin Turnwald Dentistry, it's not just about your smile. It's about your smile and overall health and well-being. We'll do our best to make your dream smile a reality without stress or hassle.
Book your appointment today by filling out the form below.
Or contact us by:
Our dental office is located in Schaumburg, IL… This text opens a new tab to our office on Google Maps… and serves surrounding communities, including Hoffman Estates, Elk Grove Village, Palatine, and Roselle.