Smile Makeovers: A Real Patient's Before and After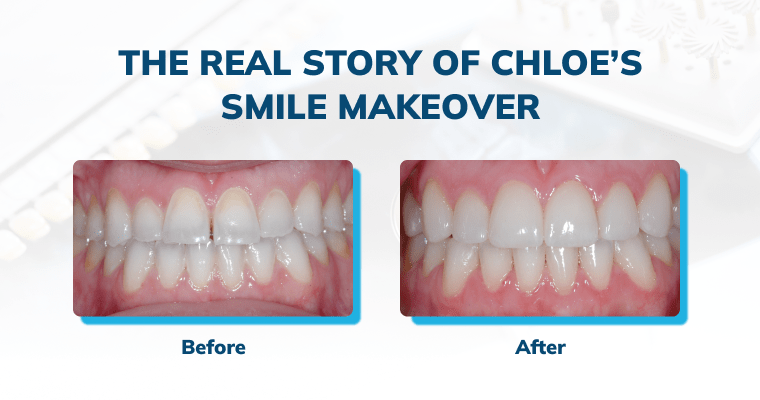 Do you grind or clench your teeth – a lot? Have you been doing it for years?
Throughout your life, the occasional jaw clench or teeth grinding moment won't have much impact on your smile.
However:
Your habitual clenching and grinding can shorten your teeth and break down the enamel, causing another stressor in your daily life.
A flawed smile can bring down self-confidence, lower your self-image, and impact your life significantly – which is precisely what happened to Chloe.
Chloe's own grinding-and-clenching habit caused noticeable damage to her teeth, and her confidence suffered.
After finishing grad school, Chloe knew she wanted a smile that belied the confidence and knowledge her years of hard work had given her. After all, she knew her smile was integral to making positive first impressions.
She'd had dental bonding done in the past, but it wasn't strong enough to stand up to her tooth-grinding habits. The bonding broke down and fractured, causing the work to need to be redone.
She knew she needed something different and wanted to know her options.
So, how did Chloe get her dream smile makeover?
Chloe's smile makeover with Smile Design
Chloe took her time to research and find the right cosmetic dentist for her.
See:
Chloe had heard about different cosmetic dentistry… This text opens a new tab to our cosmetic dentistry services… options, but our Smile Design was new to her.
As Chloe learned about Smile Design, she realized Smile Design had all the benefits:
A customized process for each person,
A consultation and in-depth discussion,
A focus on complementing unique traits, and
Multiple options to find the right solution.
She booked a complimentary smile consultation… This text opens a new tab to schedule with our office… to see what we could do to fix her smile.
While it sounds simple, we worked hard to craft a treatment plan that made sense for Chloe right from the start. We ensured her smile goals were wholly understood, considered her budget and benefits available, and ensured Chloe could say "yes" to her new smile without worry or stress.
Chloe's smile makeover with Smile Design consisted of restoring her eight upper teeth with porcelain veneers. Chloe's smile transformed from a damaged grin to a gorgeous, confident smile that any professional could be proud of.
Chloe had this to say about her experience with us:
 "Dr. Turnwald, thank you so very much for not only helping me in times of dental crisis but for allowing me to start a journey of self-improvement. For so long, I was self-conscious about my smile, and you gave me the gift of a better sense of self. I am excited to continue to be your client and so grateful that you gave me the gift of a smile."
Ready to give your smile a makeover with Smile Design near Schaumburg?
Having an uneven smile can bring down your self-confidence, damage your self-image, and impact your life in significant ways – but for Chloe, that's not a problem anymore.
Chloe's before-and-after pictures speak for themselves – and your smile could be the next transformation we tell the world about!
If you need a smile makeover near the Schaumburg area, we both recommend and expect you to take advantage of our complimentary smile consultations.
At Benjamin Turnwald Dentistry… This text opens a new tab to our website…, it's not just about the tooth. It's about the bigger picture to restore beauty and function – to your smile and overall health and well-being.
Book your appointment today by filling out the form below.
Or contact us… This text opens a new tab to contact our office… by:
Our dental office is located in Schaumburg, IL… This text opens a new tab to our office on Google Maps… and serves surrounding communities, including Hoffman Estates, Elk Grove Village, Palatine, and Roselle.