Giving Back to Our Community

2019 is Benjamin Turnwald Dentistry's
Big Year to Give Back!
As a part of our 2019 commitment to ourselves and our community, Benjamin Turnwald Dentistry wanted to make more of an effort to give back to those in need around the Schaumburg area. We closed out 2018 by sponsoring some local children that needed and wanted some Christmas gifts that their families could not give to them. After that experience, we decided we wanted to make it a permanent part of Benjamin Turnwald Dentistry's office mission. 
Over the summer, we got involved with an organization called Second Bridge that helps children transition to foster care when they need to be relocated from their homes. They help get items they may need, find them fast foster homes, and so much more! We were honored to help in any way.
The entire month of June, 100% of our proceeds from whitening were donated to helping them get the supplies that they needed. We raised enough money we were able to buy 7 kindles, adult coloring books and colored pencils, and a few other back to school items. Not only that, but our patients were so generous we got many gift cards, boxes of donations with pens and notebooks for back to school supplies, and so so so much more! It was a wonderful experience for us and we hope to continue our efforts with them in the future!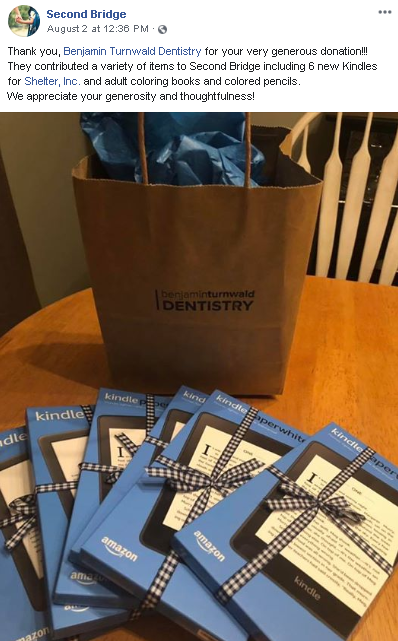 Feed My Starving Children
During the month of July, a majority of our office had not been to Feed My Starving Children located in Schaumburg, IL. They help package meals that are grain healthy to be shipped to countries who do not have readily access to food. Our entire team went to package food.  The country that was going to be receiving all of our donations was Guatemala! See pictures below from our experience at Feed My Starving Children. 
We also hope this can become a yearly tradition! Any patients that would like to join us next time are more than welcome!