Choose a Dentist in Schaumburg Who Puts You First
Are you in the Schaumburg area and in need of a caring dentist? When you're researching to choose a dental provider, it's important you find someone who always puts you first and provides dental care that focuses on your needs, not theirs.
We've rebranded our practice with a new brand and message to promote a devotion many of you came to know and love from Dr. Benjamin Turnwald. He created Benjamin Turnwald Dentistry where we're dedicated to always getting you healthy, but putting you in charge.
Let us give you three reasons why you should choose us as your go-to dentist office in Schaumburg, IL:
1) We Believe in the Ultimate Patient Experience
Receive the ultimate VIP experience at Benjamin Turnwald Dentistry, which includes:
Seeing One Patient at a Time: We see you from start to finish with no waiting, no judgment – just friendly, personalized care.
Pampering Amenities: Our dental home is your home. You'll be spoiled with the best amenities: neck pillows, massage chairs, and a chic waiting room (recently remodeled!)
The "All About You" Policy: We take this policy seriously. We treat you like a rock star. We don't tell you what you need but listen to what you want. Tell us your smile goals, and we'll provide our honest recommendations.
2) Giving You Comprehensive Care
Our dentistry services focus on the whole picture – not just your teeth. Dr. Turnwald approaches your care with a comprehensive view by considering your bite, teeth position, and health history to ensure your smile functions properly and looks amazing.
If you're missing teeth, have issues chewing, or are embarrassed to smile, let's work together to come up with a lifetime plan to get you smiling again. We strive for clinical excellence and it shows in our work. See our wall of smiles in our Smile Gallery.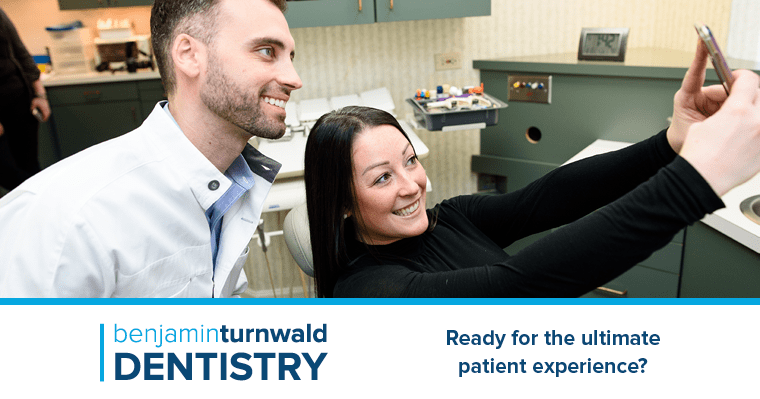 3) Making Your Visits as Easy as Possible
Obtaining the smile of your dreams doesn't need to be a chore. We do everything possible to make your visits convenient and to accommodate your needs – not ours. This includes:
Affordable Dental Options: We don't want a dental problem to become a financial problem. Talk to us to learn how we can make dentistry affordable for you.
Our Comfort Menu: We understand the dental office isn't always your favorite place to be. That's why we've created a calm environment to help combat any dental fear you may have. We invite you to download our comfort menu and choose your amenities to make your visit enjoyable.
Same-Day Emergencies: Accidents happen! Let us help you get out of pain. Call us at 847-310-9090 and we'll get you in as soon as possible.
Appointments For Busy People: We have flexible hours, including early morning and lunchtime hours to help get you in and out quickly and not interfere with your busy schedule.
We Hope We're the Perfect Place For You
You're invited to check us out by scheduling a complimentary consultation with Dr. Turnwald. Let's chat, discuss your goals, and see if we're the right dental office for you – no strings attached!
Bonus Offer!
In need of a dental cleaning? Book your cleaning appointment before Memorial Day, and you'll be entered to win a big screen TV! Refer your friends and family, and they'll be entered to win too! The more the merrier!
SaveSave